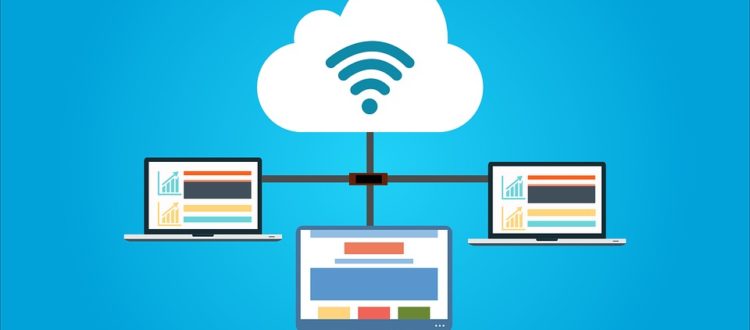 Even if you're not in the tech industry, you've most likely heard of the cloud. We're not talking about the fluffy white ones that float in the sky, but rather it's your spot on the internet where you do business. When you work in the cloud, you are accessing software programs, applications, and storage features through the internet. You will use a personal computer, laptop, or other connected devices to get to this information – it is no longer kept on your in-house server or office computer.
More than just a buzzword, the cloud is transforming how business is done. Below we discuss five ways that the cloud can change the way your company operates – for the better!
Access from Anywhere
Traditional bookkeeping programs are often kept on a local hard-drive or server in a company's office. If you need to get to your financial data, you can only run it from that computer or from by accessing the server in your office. But if you are like most owners, managing your finances can't always be done on a 9-to-5 schedule.   You may be out at clients all day and not able to work on your books until you get back to the office.   Even if you have a bookkeeper on staff, you are still limited to when they are working. Unless you are willing to make a special trip to the office, you're out of luck if they have left for the day or go on vacation.
Enter cloud-based bookkeeping services. By moving your accounting system to the cloud, you will always have access to your books, at any time of the day. All you need is a secure internet connection and you can work from anywhere. Your finances will no longer be constrained to business hours. You can bill customers, enter vendor invoices, download bank transactions, and reconcile your accounts on your schedule.
It's Easy to Use
Since users could be using a variety of connected devices to access their financial records, cloud-based bookkeeping systems are designed to be easy-to-use. You will find that adding a new customer or vendor, reconciling your bank account, or uploading your receipts are simple tasks you can do easily through a cloud-based bookkeeping program. Popular online software packages from Quickbooks and Xero offer apps that you can put on a smartphone, which gives you easy access from anywhere.
Improve Your Efficiency
Cloud-based bookkeeping systems can improve how your company operates. Some features that can impact the efficiency of your operations include;
Client invoices – When you bill a client, your cloud accounting software can automatically send the invoice via email. A client may also be able to pay you directly by clicking on a link in the email. Not only does this speed up the time it takes for you to get paid, the client's payment is automatically posted against their invoice – saving you or your bookkeeper time. It also helps to reduce posting errors, since payments are automatically linked to the invoices.
Receipt capture – No more forgetting to turn in your receipts! Many cloud-based accounting packages give you the ability to capture your receipts by using an app on your phone. Just take a quick picture and link it to the right expense account.
Multiple users can work in real-time –Your staff will become more efficient when they can work in the system at the same time. This also you to generate reports that have the most current information available. Whether you are in the office or out on the road, you can easily use your laptop, smartphone, or connected device to see where your finances are. So if you are on the way to see a client, you can easily pull up their account to see when you billed them last, if they owe you any money, and what they typically purchase from you.
Software Can Grow with You
Cloud bookkeeping software programs are scalable, which means that as your company grows – the software can keep up. Companies that are growing may need for more than one person to have access to the financial records at the same time. Traditional bookkeeping programs that a small business owner may have may be limited to just one person.
Perhaps you are considering opening up a new location or introducing a new line of services. A scalable software solution will allow you to do such things as add a new company, calculate multiple currency rates, or consolidate multiple business entities into one report.
Your Data is Secure
There are many risks to your company if you house your financial data onsite. If your hard-drive fails and you don't have a current backup, you can lose days or even weeks of work. The laptop or computer that you use to keep your books could be stolen. Files can accidentally be deleted. Disgruntled employees can pose a threat to the data that you keep on site.
With this in mind, keeping your data in the cloud is one of the best ways to keep it safe.   Software companies who offer cloud-based solutions have IT departments that are dedicated to keeping your information safe and secure. They will have the most up-to-date security solutions and protocols in place to prevent unauthorized access and data loss. For even more safety, data is often housed on multiple servers, possibly in different physical locations. This helps to keep information safe in the event of a natural disaster.
More than just expert bookkeepers, the staff at Valley Business Centre will help you to transform your business through the cloud. From implementing a cloud-based bookkeeping system to integrating useful applications for your business, our team will work with you to find the best cloud-based products.   We work with clients that are located in the BC area and throughout the region. For more information, contact the bookkeeping specialists at Valley Business Centre today.
Companies are always looking to save on their year-end taxes. If you are a small business owner, there are many ways for you to reduce your tax bill. By putting these ideas to work for your company now, they may save you a little money at the end of the year. Below are a few tips to help ease your tax burden.
Home Office Deduction – Many owners conduct all or a portion of their work from home. If this is your situation, you may be able to deduct some of your home's expenses such as rent, utilities, and insurance. To claim a deduction for your home office expense, you must meet one of two requirements:
• You conduct at least 50% of your work from your home office
• You use the space in your home only for work
If you meet one of the above, you can deduct the portion of your expenses that you can attribute to your home office. This calculation may be based upon the square footage of your home office to the rest of your house.
Business Use of a Personal Vehicle – If you use your personal car to meet with clients, deliver products, or attend meetings – part of your expenses can be deducted. These deductions are limited to the percentage of business use, so keep a mileage log to track business miles. The business percentage of gas, tolls, insurance, and repairs that you've paid for can be deducted on your business tax return.
Buy Capital Assets Near the End of the Year – When your company buys a capital asset, such as furniture, equipment, or computers, a portion of what you paid for is deducted over its useful life. This often ranges from three to seven years. This deduction is known as the Capital Cost Allowance (CCA).
A business can deduct up to 50% of the CCA that it would be entitled to in the first year, regardless of when you bought it. Whether you purchase the asset on January 1 or on December 1, you will be entitled to the same amount for your deduction.
A few other tax strategies to consider for capital assets.
• The CCA is not a mandatory deduction. If you have a year where you owe very little or nothing at all in taxes, you can carry forward the amount of CCA deduction that you were entitled to. It may have greater use in the following year if you expect to owe taxes.
• If you need to sell a capital asset and expect to have a gain, consider selling these at the beginning of the following year. You'll still owe tax, but you'll hold onto your money for a longer period of time.
Plan Your Losses – Whether you are just starting out or the economy is struggling, your business may experience a loss. These are considered non-capital losses and can happen when your deductible expenses exceed your revenue for the year.
These losses can be handled in three ways:
• Offset personal income in the current tax year
• Carryback the loss for up to three years to recover tax that you paid during that time
• Carryforward the loss for up to seven years
If you just had a slow year, but are expecting business to pick up – it may make more sense to carry the loss forward to offset the future tax that you may owe.
Tax Credits – We often think of tax credits as being something that large corporations get. However, there are tax credits available to small businesses that you may not know to exist:
• Apprenticeship – If you hire a student who is in their first two years of an apprenticeship, you may be eligible for a $2,000 tax credit. This may be a great option for a small trade business.
• Child Care Spaces – If you are not in the childcare business, but create space to provide childcare services for your employees, you may be eligible for a tax credit of up to $10,000 or 25% of expenditures that qualify. The facility does need to be licensed and operated for the benefit of your employees.
Hire A Family Member – If you have an immediate family member that you support who helps with your company, such as a child, make it official and pay them. By putting them on your payroll, they pay a lower tax rate on what they earn. This also lowers your net income and reduces the amount of taxes that you owe.
Suppose you employ your college-aged son or daughter and pay them a $10,000 salary. Your son or daughter would be taxed at a much lower rate. In addition, your marginal rate would be less as well, as you have $10,000 less in taxable income.
A few words of caution, however. When paying a family member, compensation needs to be reasonable for the position and similar to what you would pay someone else. Paying a high salary that is not commensurate with the work that is being done could be challenged by the CRA. Be sure that your family member completes all of the relevant paperwork when they are hired. If you pay them hourly, they should submit a timesheet that documents the days and hours that they work.
Incorporate – If you are a sole proprietor, you might consider incorporating your business. By doing so, you may be able to take advantage of the Small Business Tax Deduction. This will allow your net income to be taxed at a lower rate of 10.5%. To qualify, you must be a Canadian corporation. All other corporations would be taxed at the minimum 15% rate.
If you are a growing business or expect to grow in the future, incorporation can be a great option for you. Not only does it provide more legal protection, but you can also get the benefit of a lower corporate tax rate. However, there are costs of incorporating. If you end up taking most of the profit out of your business through a salary, incorporation may not be cost-effective for you as your company would not have any taxable income.
Keep Track of the Little Things –
Finally, if you regularly treat clients to a cup of coffee, pay for parking during meetings, or buy roles of stamps to send a few letters out, these are all deductible expenses. Perhaps you paid for this on your credit card or with the cash in your pocket. By keeping your receipts for these little things, they can add up to a nice deduction over time.
While running your own company is rewarding, paying out more in taxes than you need to is not. An owner can find ways to keep more money in their pocket. Incorporate these strategies above and you may be able to reduce your tax bill.